Respect For The Original Source

When was the last time you heard music performed live? Whether it's in a spacious concert hall, an airy amphitheater or an intimate club, live music is the ne plus ultra entertainment experience. Artists on a tightrope, no net, playing full out; using their whole being to generate emotion and excitement. Audiences up on their feet, dancing; or riveted in place by virtuosity. Music is a living thing, born in the studio and on stage—growing, expanding, taking over the world.

Louder. Lower frequency. Less distortion.

You know Paradigm builds the most powerful subwoofers and the new Prestige 1000SW and 2000SW are no exceptions. Designed, engineered and hand-built in our Canadian facility, the new Prestige subwoofers feature a clean design with front mounted controls including a Tone Sweep to instantly locate room rattles and buzzing, PBK On/Off and much more.

Crafted in Canada

Designed, engineered, and fully Crafted in Canada, by people who love great audio (just like you). From the precise workmanship of the non-resonant cabinets to their beautiful premium-grade finishes, Prestige is truly hand-built for performance.

Innovation & Technology

For over 30 years, Paradigm has set the precedent for innovation and technology in loudspeaker manufacturing. The new Prestige Series builds on this history by combining new technologies with smart engineering that provides astonishing performance at an incredible value—all completely crafted in our Canadian facility. Prepare to be impressed and astonished.
Prestige Tweeters In-Depth

X-PAL™ tweeter with exclusivePerforated Phase-Aligning (PPA™) TweeterLens that protects the delicate pure-aluminum tweeter dome and acts as the Phase Plug, blocking out-of-phase frequencies for smoother, extended high frequencies with incredible detail and higher output.

Finite Element Analysis (FEA) optimized pole piece concentrates the magnet's power for maximum efficiency and lightning fast response while lowering the tweeter's resonance frequency for clean, accurate sound.

Our tweeter designs are cooled by the original ultra-stable Ferrofluid, made exclusively by Ferrotec. Ferrofluid is a colloidal suspension of magnetic nano particles in a liquid carrier with low volatility and high thermal stability.

Rear-mounted tweeter and midrange/tweeter module designs removes obtrusive hardware from the front speaker baffle for a flawless new look, enhanced by low-diffraction brushed anodized aluminum trim rings.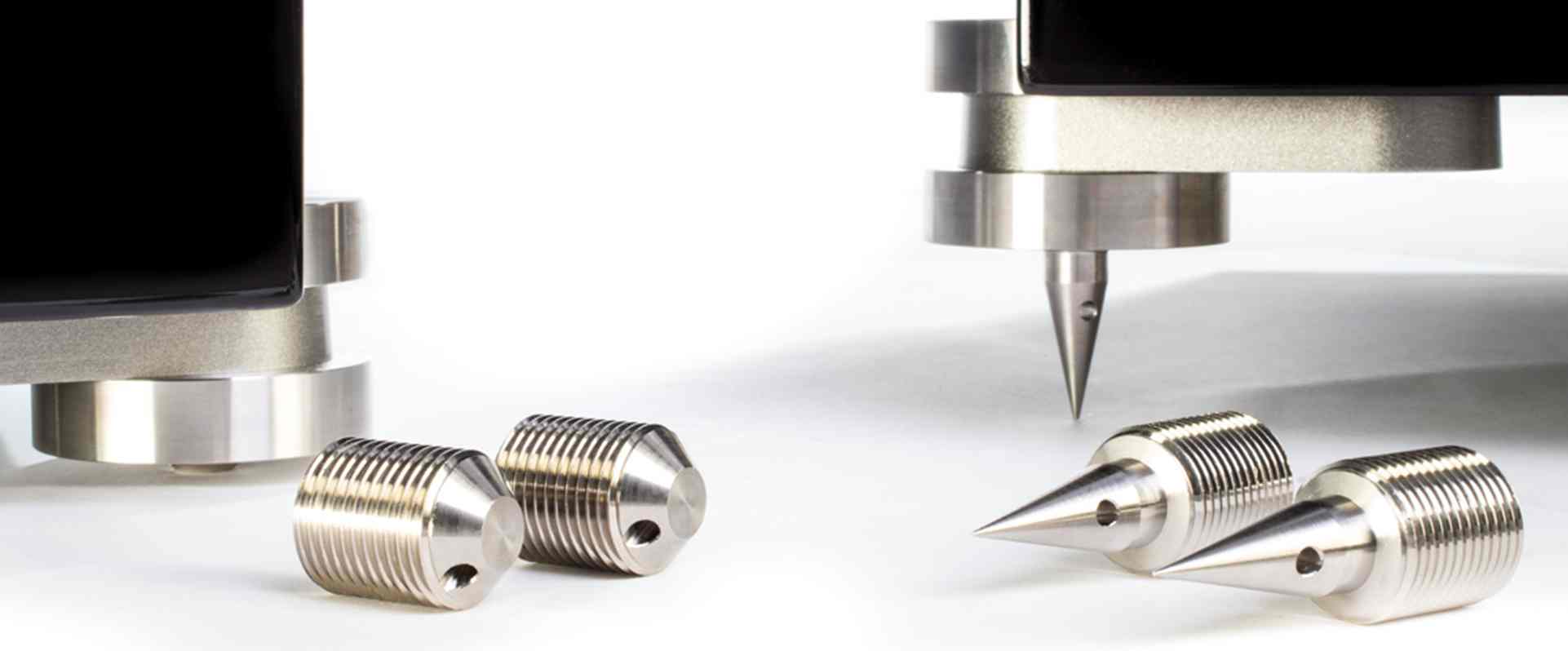 Solid Footing
Prestige Subwoofers ship with rubber feet for hardwood floors, along with 2-inch carpet spikes to ensure your subwoofer won't move wherever you place it in your room.
Advanced Technology

Ultra powerful amplification and advanced technology drives Prestige Subwoofers to another performance level. With front mounted controls and integrated room correction with PBK, you'll get gut-wrenching bass in any environment.

Efficient Ultra-Class-D™ Amplifier: More than 90% efficient, Prestige 1000SW subwoofers are designed to completely control the bass driver for up to 1,000 Watts of sustained power.

Ultra-Low Noise Transformer: Unlike cumbersome and heavy transformers used in line frequency power supplies, Prestige 1000SW uses noise reducing networks and an advanced control circuit resulting in high current and ultra quiet operation.

Digital Signal Processing: Paradigm has maximized processor efficiency and audio output to deliver a consistent and musical bass without audible distortion – even when the played at loudest level.

Super-strong die-cast basket features an integrated heat sink for higher power handling, better bass, and better dynamics and less power compression.

Lightweight, extremely durable high-excursion Nomex spider design: delivers a longer life of flexibility and performance. Nomex is 10-times stronger than industry-standard cotton-based spider material.

High Excursion Bass Driver

Maintaining control over your design and manufacturing process is the only way to ensure perfection. For the ultimate in control, Paradigm builds its drivers in-house. Only by handcrafting bass driver ourselves can we guarantee the consistency of our precision engineering, going beyond the industry standard to deliver superior high performance in each and every Prestige Subwoofer we build.

X-PAL™ brushed pure-aluminum woofer cones combine lightweight stiffness with high consistency for a greater degree of accuracy and smooth, uncolored frequency response. Matching dust caps ensuring more uniform dynamic response and a cleaner, modern aesthetic.

Paradigm's patented† Active Ridge Technology (ART™) surrounds, made in-house and overmolded directly onto each cone, achieve greater excursion for a 3dB gain in distortion-free output (50% greater) compared to drivers with standard surrounds. Crafted from audiophile-grade injection-molded thermoplastic elastomer, ART™ surrounds are more durable and reliable, for a lifetime of superior sound.

† US patents: D654,479S and 8,340,340B2.

Dual Voice Coil Design: Wound on high-temperature Kapton formers, the multi-layer voice coils provide exceptional motor strength.

Lightweight, extremely durable high-excursion Nomex spider design delivers a longer life of flexibility and performance. Nomex is 10-times stronger than industry-standard cotton-based spider material.

Extruded-Aluminum Center Heatsinks: Provide internal forced-air cooling to force heat away and increase power handing while reducing distortion.
Partnered with the NRC

Paradigm is partnered with Canada's world-renowned NRC in ongoing research to reveal the true nature of sound and human hearing. Findings influence design and performance specs, resulting in a uniquely realistic listening experience, backed by sound science.